Lenovo's Standalone VR Headset Passes FCC Test
The FCC SAR test report lists the model number, the Lenovo VR-1541F, along with the name Lenovo Mirage Solo with Daydream.
The document also mentions that the device will feature a 4,000 mAh Li-Ion battery and support Bluetooth 5.0.
The DG1CA controller, as documented will have a 0.5m cable without a ferrite core. Furthermore, a USB cable seems to be included. However, the FCC documents do not mention any details about the processor being used.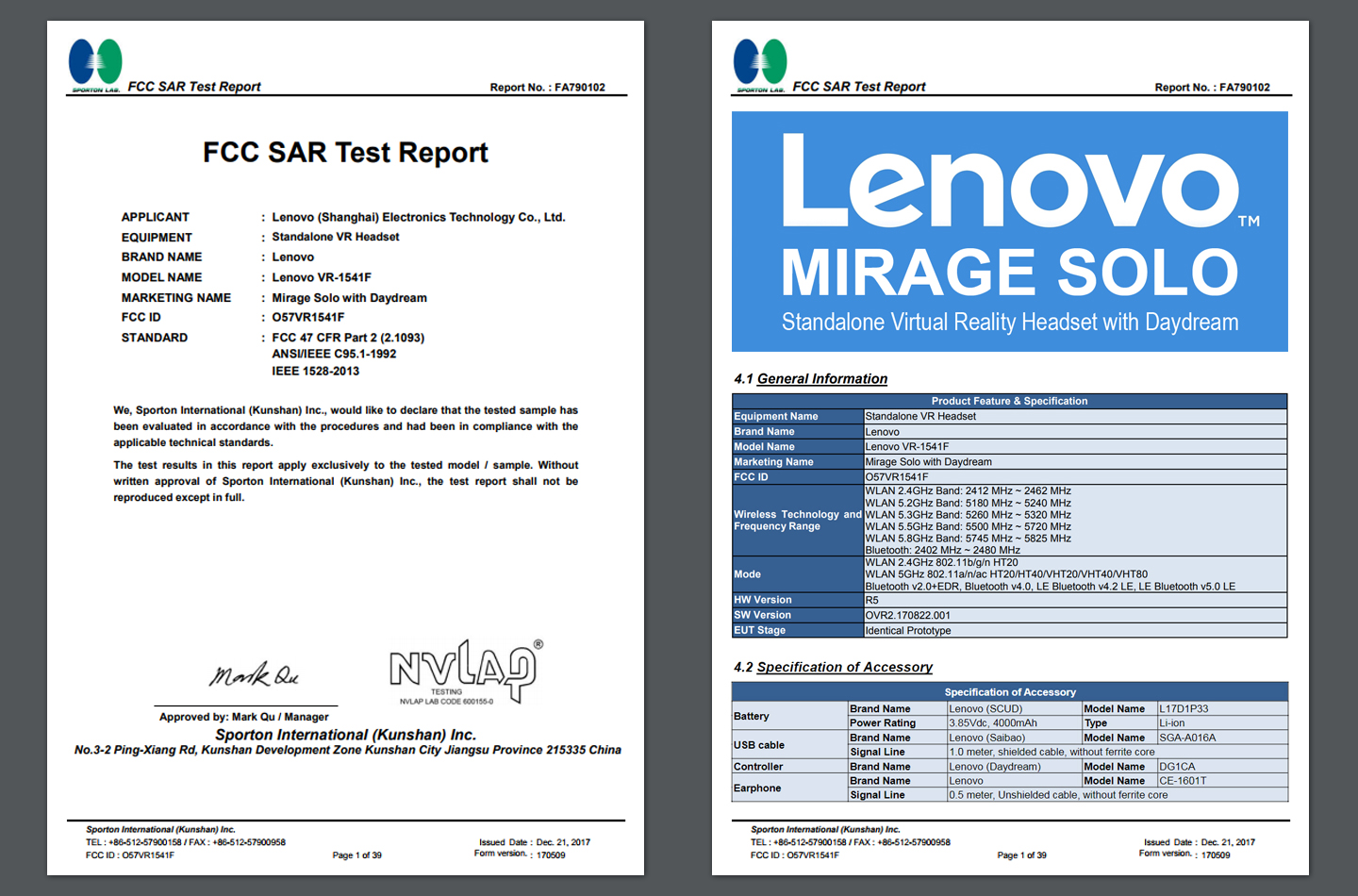 This is not the first time Google Daydream headset is in news. HTC was known to be working on a Google Daydream standalone headset for a very long time, until the project got scrapped.
Last month, the HTC Vive Focus standalone headset was introduced in China without the Google Daydream OS.  It instead used mobile version of the Viveport app store.
There is much excitement about the product that is yet to be announced officially. We can now expect an announcement soon. Quite possibly, it will be announced at the CES 2018 taking place from 9 to 12 January in Las Vegas. For those of you who don't know, CES is a global summit for consumer tech businesses. It would be an ideal opportunity for Lenovo to make the launch, however, we cannot be too sure.
Google has also hinted some information about the sales price. The Google Daydream VR headset will have a price similar to desktop VR headsets, such as the HTC Vive and the Oculus Rift. However, the price of these headsets is considerably higher than the Oculus Go standalone headset launched earlier this year. This is probably why the HTC Daydream headset was cancelled.
Last month some information appeared on the Lenovo VR180 Mirage Camera in the database of the Russian Inspection Agency EA Union. It is a 180-degree camera, optimized for YouTube.