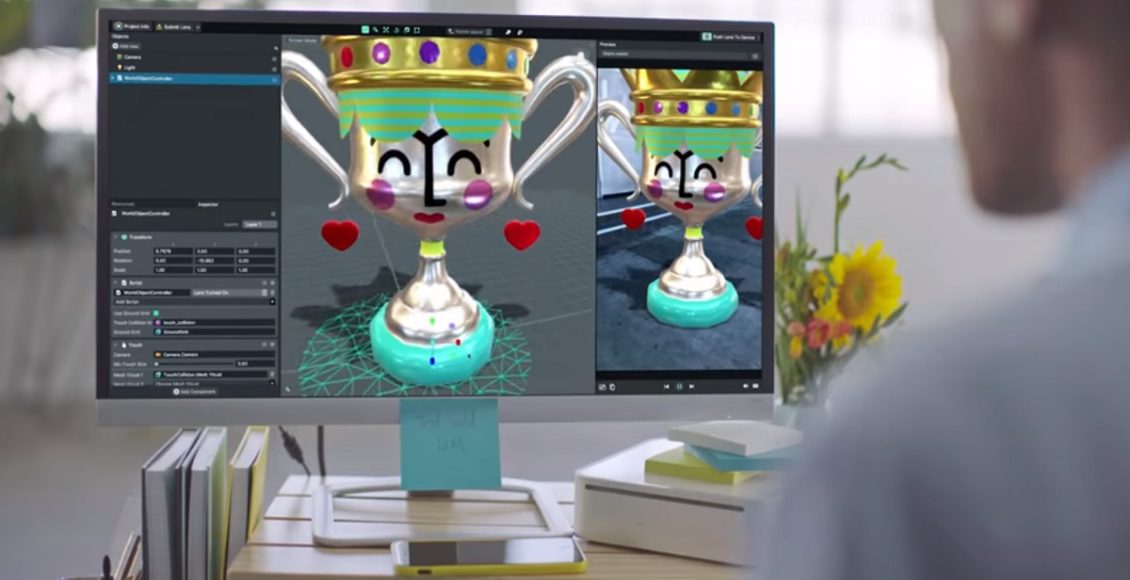 YouTube
Snapchat Announces Desktop App for AR, The Lens Studio
Snapchat announced today their desktop app for creating and publishing AR content for the Snapchat community.
This tool is available on both Windows and Mac and is easy enough for use by students and amateur artists while having the functionality required by professional artists and brands. The key idea is to make sharing of AR content a quick and fun experience. This is accomplished by using a sharable snapcode, instead of a link that can be used by anyone to view the lens. This allows AR to be more accessible, while providing personalization and diversity.
The difference between a lens and a filter is that a filter adds creative effects to a snap after it has been taken. The lens on the contrary allows you to play with the effects using the Snapchat camera itself. Currently, the app does not however support face lens, which is a feature that is expected to be introduced in a future update along with the custom shader effect.
"We've seen how much more fun Geofilters have become since first inviting the community to create their own three years ago — and can't wait to see what you build with Lens Studio!"
To create your first lens, you first need to import a 3D artwork, add movement patterns and animations and then publish and promote the lens. Currently, the app supports .FBX and .OBJ formats for the 3D models.
A submitted lens will be first approved by Snapchat. After that, it will be available for sharing for a year, unless deactivated by the user. The shared effect, however, will only last a day.
Snapchat has tied up with seven Lens Studio firms that will be outsourced creation of AR. These are, Avatar Labs, Fisherman Labs, Haus, Media Monks, North Kingdom, Trigger Global and Vidmob. These companies can be paid to create a Lens which will reduce the cost and development time for the lenses.
Apart from the desktop app, an API is also made available. Any unlisted queries can be clarified through the community that is introduced along with the app.
Since it began, Snapchat has been a closed company. This change in strategy may lead to interesting and unpredictable consequences in terms of content bringing fresh interest to the app.
The company also started a January jumpstart challenge, banking on the festive season. All you need to do to participate is
Create your artwork in the program of your choice
Build your Lens in Lens Studio
Submit your Lens
The competition is from 15th Dec to 16th Jan and has a Lens Studio swag bag as the prize, featuring an apple iPad Pro.