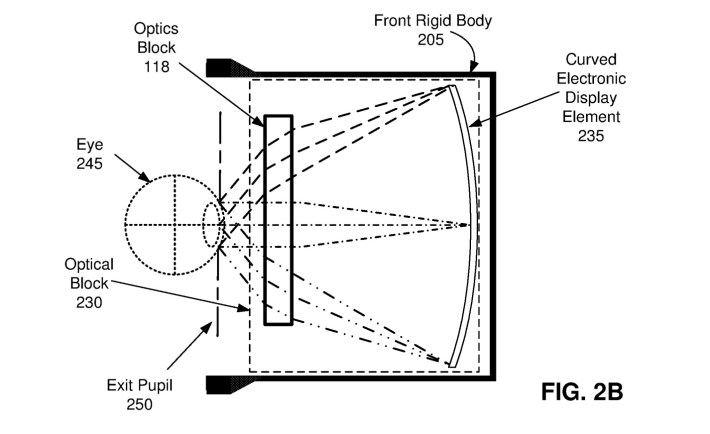 Oculus Files Patent for Curved Displays in VR Headset
This August, Oculus filed a patent application for VR headsets using curved displays, sources cited. The application was published by WIPO this November.
The technology could possibly help resolve multiple issues with the current flat displays, though it is still not clear if the patent will be granted. The technology has the potential to simply headset construction, the lens systems in particular while reducing the cost and weight.
The patent pending design makes use of "fibre optic taper" which acts as a magnifying component that can increase the field of view while eliminating some optical distortions. The use of headset space could also be reduced leading to a smaller form factor.
While it is unlikely that it is going to be used in the devices announced earlier this year, it could quite possibly be a standard for future VR based devices with sharper images in reduced aberration.
Earlier this year, Oculus announced a new line-up, adding two new headsets including Santa Cruz, a development kit featuring full motion tracking in a wireless headset and the Oculus Go, it's first truly mobile headset with built-in electronics instead of a phone slot, all for 200$. "Oculus Go, our first standalone VR product. Lightweight, superb visual clarity, integrated spatial audio, $199. Ships in 2018" tweeted Facebook's VR chief, Hugo Barra.  According to him, the Go and Santa Cruz are supposed to complement the Rift and Gear VR and not replace them.
While it is still largely considered to be a niche market, it certainly has huge potential as experimental use has started in various sectors other than gamins, especially health and travel.