Lumus Reveals its Latest Visor with a Sleek and Shrunken Form Factor
A leading developer of transparent augmented reality (AR) displays, introduced its latest technology today at CES 2018.
Lumus, a leading developer of transparent augmented reality (AR) displays, introduced its latest technology today at CES 2018. At its company booth at Eureka Park, Lumus was demoing its next generation of augmented reality visors. A model template for design to allow experimentation by companies it has transparent dual 1080p lenses. And they are commendably bright for such a small and sleek form factor. Even in the glitzy lighting of show the video being played on the glasses was clearly visible.
The secret lies apparently in the Lumus optical engine which is at the core of this engaging AR experience. Modeled on its proprietary reflective waveguide technology, the AR display allows a projected light beam to pass through the transparent lens and project a luminous and crisp AR image when it enters the wearer's field of view. The level of optimization is such that the Lumus optics are almost distortion-free and project luminous digital images be it indoors or outdoors. Other key features include top down orientation, 1920×1080 resolution in 3D mode, Fully transparent providing a non distorted view of the real world with true colors, daylight readability.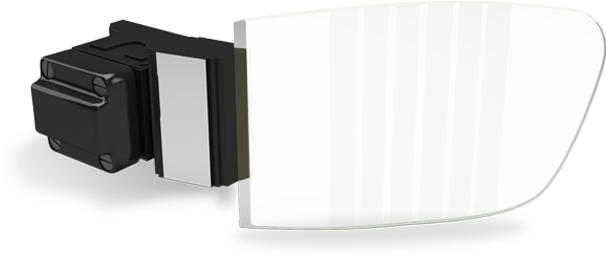 These latest models have more in common in appearance with sunglasses than the trimmed down HoloLens look of the currently shipping glasses, in spite of offering the same sophisticated displays in place of ordinary glass lenses. It's evidently a tremendous reduction when contrasted with the previous generation model. The field of view though hasn't been upgraded; it is still fixed at 40-degrees.
Ari Grobman, CEO of Lumus, has stated that for their next version, they will upgrade to 50-degree field of view although we shouldn't expect it to begin production until early 2019. One more reason for the slim form factor is the presence of a USB-C port at the back edge of one of the glasses' arm. It will evidently connect to either a smartphone or a minicomputer which will take care of all the computing and heavy lifting. The glasses on their own will only have to handle audio, display and the front facing camera.
All that aside, Lumus' deal with Quanta is showing now, as its production increases. The Visor design is shipping as we write with plans to launch it later next year. The new shrunken AR visor though, will begin production in Q2 2018.